Exterior Seal Upgrade / Modification
Middlebridge Rear Window Rubber Seal

Middlebridge Ltd utilised the standard SE6a/b rubber seals for the doors and the rear window.

I had assumed poorly fitting doors and rear window to be a result of worn latch mechanisms and fixings. Through further investigation and discussion, it was apparent that the rear window rubber even though looking in good condition was in fact the problem. The self-gripping sprung steel spine within the rubber seal had rusted and expanded during the 30 years of service. Fitting a new rubber and adjusting the latch has resulted in the rear window closing correctly as intended when the vehicle was new.

Replacement door and window rubbers are available Woolies (I & C Woolstenholmes Ltd), Whitley Way, Northfields Industrial Estate, Market Deeping, Peterborough PE6 8AR. Tel:+44 (0) 1778 347347 https://www.woolies-trim.co.uk/

The rubber I used following recommendation from Mick and Will can be seen on the Woolies website https://www.woolies-trim.co.uk/product/1285/door-seal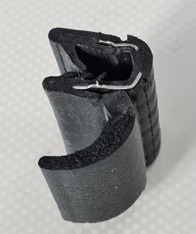 Description from website: Snappon with Sponge Flap - Black rubber finish - Will push onto 1-3mm thick edge - Flap protrudes 11mm (7/16") - Useful for tight fitting doors as flap will crush easily.

Door Seal Part No. 265A costing £4.75/m plus VAT plus shipping. 4m length is required for the rear window of the Scimitar GTE. Note: When the new rubber seal has been attached to the bodyshell, take care when first closing the rear window as it is designed to slide on the hinges self-aligning with the window aperture. The window may have moved during the operation of installing the rubber seal.

To adjust the rear window lock, slacken three setscrews to alter the height of the catch. Refer to section Q2.3 of the Reliant Workshop Manual SE 6 & SE6A for further information.

Thank you Alan Cavendish Tribe for this great tip.