Exterior Paint and Body the Story!!
As any Middlebridge owner would probably verify paint does not appear to be their strong point. Mine pictured had peeling lacquer, Micro Blisters and Gel Cracks, my roof went from virtually no apparent lacquer fault to (as pictured) in about six weeks , I hope yours is fairing better. The condition of the paint and body is surprising when you realise that Middlebridge Ltd actively used the fact that 100hrs of prep and state of the art spraying technology were employed at their Lilacs Grove site in their marketing and sales brochures. ( In their defence the paint issue's are quite a recent problem and the cars are after all now all over 20 years old). I only know of two examples with good original paint but they are both kept garaged and cosseted. Mine has to suffer an open drive-way on a hilltop.
We started by removing the inner wing and bulkhead mounted components, they were either removed completely and cleaned or positioned out of the way on the engine block, the engine and ancillary's were then masked up to avoid any dust when prepping the area for spraying and overspray.
After removing the components from the inner wings and bulkhead we then spent hours prepping, cleaning and de-greasing the engine bay prior to any primer and colour. We painted the engine bay and all the wheel arches before tackling the rest of the car. At this point I must admit to being quite nervous about the colour choice as it looked very very bright.
Well here goes!! The car was stored in a dry , warm unit for six weeks in order to thoroughly dry the body out, infa red heating was used - eventually once the paint was removed it revealed the full extent of the body horrors Aggggghhhh !! ;-( Quite a lot of the cracks were not visible prior to the paint removal; I think you'll agree that you'd have a long search for a worse example. I / We have previously stripped a 5a and a 6a for paint and neither were anywhere near as poor as this body !!
With all the paint removed we started to grind all the cracks, marks and blemishes out (Tip) when grinding out the body faults, it is critical that the grinding depths and lengths are much much greater than the visible fault.

Depending on the fault, either fibreglass tissue, matting and gel were used for the repair as deemed necessary at the time. Resin was added to the body to hopefully stop any re-appearance of the faults in the years to come. Only time will tell.

It was time to spray primer and guide coats to the body, this enabled us to rub down and repair any now visible faults. This was done several times. At last we sprayed on high build primer and yet more prep again!!
'Yes' at long last some two-pack base coat was applied (2 Coats) followed by several coats of lacquer. Phew!! Oh my God did she look bright, I was very worried and desperate to see the car in normal daylight, when we rolled her out she was bright, but not as over the top bright as she had appeared in the booth. 'Huge sigh of relief.' I have now grown to really like the colour; it's a good talking point. Some people love it, some like it and a few think it's awful. I don't mind, I really like it now.
At this point I noted that the door catch mechanisms looked drab and aged so out came the polisher for the lock mechanism and the latch was replicated in 304 Stainless. This certainly improved the appearance with the doors open.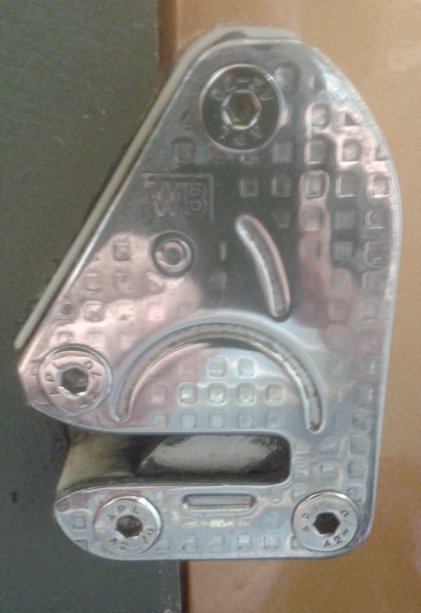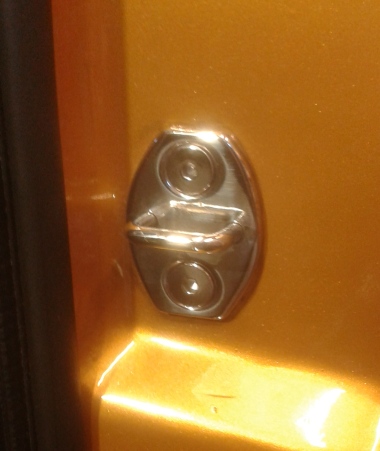 The standard Middlebridge wiper rest was very basic so I simply copied it, contoured it to follow the body line and polished it and hey presto, yet another little improvement.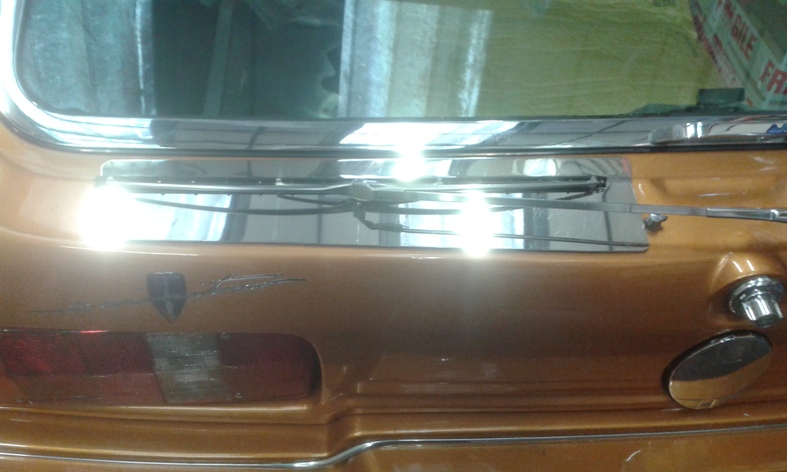 The car left the Garage on 05/11/05 (Bonfire night) with just some trim to finish and was on the road the following week when it was driven down to London for the Ally-Pally show at very very short notice, that was late Nov 05.
It is now nearly two years from the date of re-spray and I think the paint looks as good as new. One thing to remember this car lives outside in all weathers as I don't have a garage. ;-( This will be a simple record with regards to the paint job over a period of years. (New Paint) Ally Pally (2005)Practical classics/Town & Country show (2006) Tour of Eire (2006)N.E. (Seaburn)/S.W. (Powderham)/T.V.Shoot (2007)
NEC 2007 Everyone was shocked and suprised when John McCauley (Joint MD of Middlebridge Scimitar Ltd) turned up at the Club stand and had a long chat with us all, he's the slim one and I'm the one that ate all the pies!! More suprise visitors to the Club stand this time in the form of Mike Brewer and Ed China from Discovery Channels "Wheeler Dealers".
.
Here's a shot that shows most of those responsible for making the NEC 2007 such a great event.June 2008 Inaugural Disneyland Classic Car Extravaganza (Disneyland Paris) We decided to add the Disneyland Paris event to our touring schedule and we had a great time at this super venue, we also come away with runner up prize in the highly contested Sports Car category. (Highly Recommended.)
.
August 2008 Curborough Sporting Weekend. This is the premier event of the year for Scimitar enthusiasts and I was lucky enough to come away with the concours cup as well as a sore head from sat night ;o) (Know what I mean.)
See Picture
August 2008 Stoneleigh Country Fayre. This is a great show with things to keep all the family amused as well as the petrol heads; I would highly recommend this as a family event.
.
November 2008 NEC Classic Car Show What a show!! Great Cars, Great Stand Great Guest and a Great Weekend, Tom Karen designer of the Raleigh Chopper, Bond Bug and of course the Scimitar was special Guest on the club stand giving interviews and signing autographs for the lucky few ;o) The stand was busy all weekend and kept us all on our toes.
.