The Racing division was created in 1986 and initially raced very successfully in the FF2000 1987 where they achieved three wins and two lap records. 1988-89 Middlebridge moved up into Formula 3 and the team drivers were John Alcorn (won at Brands Hatch) Phil Andrews and Arnoud Guiot for a few drives. The team maintained a reasonable positions during 1989 running Reynard 89Ds with McLaren, Cosworth DFV engines, Phil Andrews continued to drive but alongside him now is Mark Blundell, who I'm sure needs no introduction. 1990 The team are looking to have Phil Andrews driving in F3000 using an all new engine developed by Tickford, Middlebridge also paid £1 million to Bernie Ecclestone and gained control of Brabham for the 1990 Formula 1 season, they borrowed the money from Landhurst leasing and struggled with the repayments, the team managed to score a few points and the drivers were, David Brabham and Damon Hill son of Graham.
Matthew Gable has sent in the two photos below taken during the International F3000 Championship. Click each photo for full size view
The first photo was from the International F3000 Championship 1989 - Brands Hatch: Mark Blundell - Reynard 89D - Middlebridge. Retired. At the entry to Graham Hill bend by the looks of it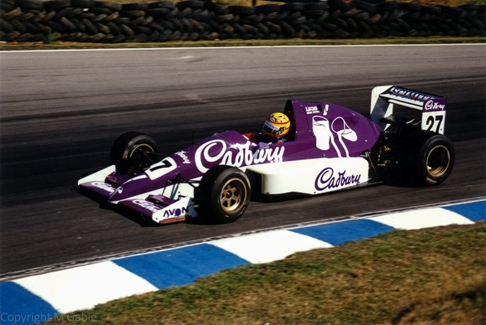 The second photo was from the International F3000 Championship 1991 - Brands Hatch: Damon Hill (leading Christian Fittipaldi) - Lola T91/50 - Jordan Racing. Finished 6th. Turning into Hawthorns.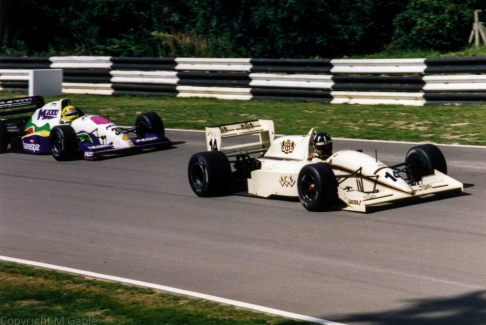 Many thanks Matthew for the photos
1989 Birmingham Superprix with Mark Blundell driving the Middlebridge Reynard in Cadburys colours and finishing 5th.

Thank you to Will Anderson for forwarding this link.




These very rare Middlebridge Racing Pictures (below) were very kindly given to me by Dennis Nursey and are pictures that he himself took during his reign as CEO of Middlebridge Racing and Middlebridge Scimitar. The pictures are all numbered and soon we hope to add descriptions of the content.

Needless to say if anyone can add any more detail to the content that would be great for both this site and historically. Click each photo to see the full size, complete with the relevant number

Many thanks to Dennis for the pictures. I'm sure many people will enjoy looking back.

Mick Gaughran


Pictures above courtesy of Dennis Nursey, Many thanks Dennis.
Brabham Racing
Brabham Racing was founded by Jack Brabham and Ron Tauranac, they both worked in Australia, Jack being the more well known of the pair, and Ron doing design work during the 1960s, Brabham was the worlds largest builder of open wheel racing cars and won four drivers and constructors championships during its 30 year F1 history, Brabham also had cars competing in Formula Two, Formula Three and the Indianapolis 500, Bernie Ecclestone owned Brabham during the 1970s and 1980s before selling to Middlebridge prior to him becoming responsible for the administrating the commercial aspects of Formula One. Some well known names connected with Brabham. Founders; Jack Brabham, Ron Tauranac.

Staff; Bernie Ecclestone, Gordon Murray, Ron Dennis, Charlie Whiting and John Judd.

Drivers; Jack Brabham, Dan Gurney, Damon Hill, Graham Hill, Denny Hulme, Niki Lauda and Nelson Piquet.