Middlebridge 43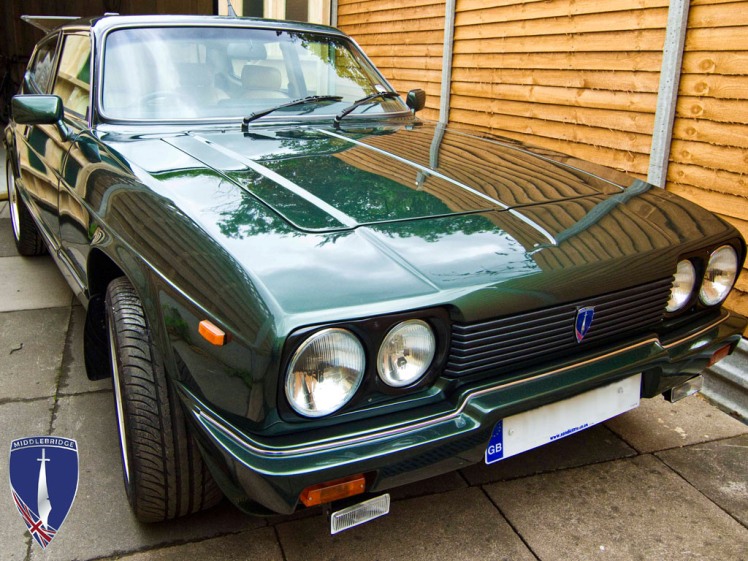 The current owner is a serious Scimitar Enthusiast with several Scimitars. He has owned this Middlebridge for 11 years and has certainly treated her very well, during the last Eighteen months she has been shod with a new set of 17" Image Alloys and Rubber, her interior leatherwork re-trimmed as required and if that was not enough she has also had a complete professional respray by Spa Garage in Leamington to really make her look the part. [05.12]

He has reluctantly now put her up for sale and I think his advert below really says it all!


Owned and loved for past 11 years.Full professional re-spray carried out by Spa Garage (experienced with GRP cars) in 2011 including
Brand new chrome strips to front & rear bumpers and brand new side strip/door protection rubbers with band new end pieces.
Brand new headlights with new back buckets (x4)
Brand new fog lights.
Brand new front indicators lenses.
Brand new side indicator lenses.
Brand new front grill with Middlebridge badge.
Brand new drivers & passenger side door frames with all the necessary draught excluders and rubbers to corners/bottoms inside and out as well as the door rubbers.
Also Brand new Middlebridge door sill/treads and a Brand new windscreen rubber.
At the back of the car there is brand new pair of rear light clusters.
Brand new chrome filler cap.
The tailgate has brand new chrome hinges and a brand new D handle.
The rear washer has been re-commissioned with a new jet.
There is a brand new b sting aerial also fitted to the roof.
Inside is in generally very good condition in magnolia which has been partially re-upholstered with brand new leather to the drivers / passenger seat and centre console.
The carpets are black and are in excellent condition throughout.
There is a brand new heater matrix with up-rated blowers fitted by QRG.
Brand new Middlebridge steering wheel.
QRG have fitted a pair of inertia seat belts.
Underneath, In the first few years of my ownership,the front and rear suspension was re-built with AVO adjustable shocks and springs. New/re-cored radiator was fitted, again at QRG who also fitted new clutch, a couple of years ago. There is a stainless steel spare wheel tray and the exhaust manifolds are also stainless.

The wheels where bespoke and made at image wheels; 8" wide 17" radius with 225/50 Kumho tyres (These alone cost 2k) These transformed the handling, especially at high speed !! (it also improved the MPH reading of the speedometer which now reads accurate to my TomTom Satnav!) and were made to resemble the original 15" 'Aussie wheels'. Generally this car drives and performs faultlessly with 90,000 miles on the clock. The 5 speed manual gearbox is also faultless. This car featured at the NEC classic car show just November 2012 [11.05.13]

The new owner has really taken the bull by the horns and surprised us all by saying that his 1st job will be to completely refurbish the interior. (We thought it looked good) until we saw the finished article which is quite frankly totally stunning! We really hope this car is available at events during 2017 to help further forward the Middlebridge marque. [20.08.16]

MESS: Grille Badge, Individualised Hand Book, Wheel Centre Badges, Stainless Tread Plates.